Whether you're a foodie or know someone who is, edible gifts and fun kitchen gadgets make great stocking stuffers. Christmas is less than a month away so it's time to get started! You can even find most of these items at seasonal craft fairs and local mom-and-pop shops. Below is a list of handy stocking stuffers for the ultimate foodie in your life.
Tea and Accessories: A little something goes a long way. Stuff those stockings with a tea gift that is sure to delight!  Loose leaf mini tins, individual wrapped tea bags, or tea infusers just to name a few. I like to source organic varieties to minimize pesticides and herbicides that can be heavily sprayed on tea leaves during production.

      
---
Stainless Steel or Glass Straws: As you may already have noticed, many restaurants are switching to paper, steel or even pasta straws to reduce plastic waste. I prefer stainless or glass straws myself because I find paper straws gets mushy too fast.  Both stainless and glass are great gift options, and will also help reduce your carbon footprint and unnecessary waste.
---
Cookies or Other Baked Goods:

Nothing better than homemade treats! You can make them yourself, and package them in a clear bag tied with ribbon for an extra Christmas flare.




---
Abeego and other Beeswax Food Wraps: Extend the life of food without the use of single-use plastic wrap. Abeego and other similar wraps protect while enabling the foods to breathe, mimicking what peels and rinds do for many fruits and veggies. Wrap avocado, swaddle bread, cover bowls to preserve and protect your food with this natural alternative to plastic wrap.


---

Mini Jam Jars: If you're feeling adventurous, try making these cute little jam jars! The Grateful Grazer has a blackberry rosemary chia jam recipe that's easy to follow. Alternatively, you can always buy jams and dress them up with a Christmas ribbon and tag. The ultimate foodie will love these!


---
Bumkins Reusable Snack and Sandwich Bags: Move over Ziploc!

We all know plastic is a growing problem in our world. Thankfully, you can do your part by choosing reusable bags and reducing waste. The snack bags are lab tested food safe, so you can pack your snacks in style. They have a waterproof liner and are dishwasher suitable.




---
Key Chain Hot Sauce: For the friend who likes to spice up their life, you can now take hot sauce with you anywhere with this mini sriracha keychain bottle. Did I mention it's refillable too? Win-win!


---
Kaslo Sourdough Pasta: One of a kind sourdough pasta is a warm comforting meal during the cold winter months.  Kaslo Sourdough pasta uses fermented technology in their recipe which makes them ultimately one of a kind. Benefits of natural fermentation include enabling proper digestion of cereal grains such as wheat and rye, making nutrients more available for absorption and alleviating or even eliminating gluten sensitivities or intolerances. Also, the bag is resealable so you can use it for dry food storage, like those homemade cookies! Find their pastas near you!


---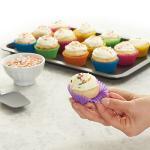 Silicone Muffin Cups: These reusable silicone baking cups can be

used again and again and are a great alternative to disposable paper baking cups. They can also make eating fun by separating veggies, snacks and fruits in kids' lunchboxes.
---
Jennifer's Chocolate:

Based out of Nakusp in the West Kootenays, Jennifer's chocolate shop is not one to be missed! Each item is hand crafted from exquisite and natural ingredients, any delights from her shop is a chocolate foodie's dream!
Back to news