We're bringing you our three sourdough songs this November! When we co-developed these Indie-pop songs with Sean Rodman a few years ago, we only did a soft launch. There was a lot going on at the time. But it's a great time to bring these songs back to you now, as the weather gets colder, and we're spending a bit more time inside, baking, cooking or maybe even pulling out a puzzle.
We have a lot of talent in the Kootenays, and so it is our joy to share these songs and introduce you to a few artists we enlisted to make these songs come to life. Silvio, our in-house sourdough expert, helped to co-draft the lyrics.
Sourdough Song 1: The Sourdough Trail
The strumming of this guitar song will give you a bit of our take on sourdough's place in history and where its come today. It brings some of Silvio's passion for research and the long history of sourdough forward. Video by local talent Andrew Fry! Click on the image to load.
Sourdough Song 2: Sourdough Culture
With some great feature violin and guitar, this lovely ditty tells a bit of the story of Kaslo, its history, and sourdough culture came here! Appropriately, sourdough song 2 also tells a bit of the story of Silvio coming from Europe (Germany) and getting started here.  The lyrics are super-imposed over the drawing by local article Gary Schneider.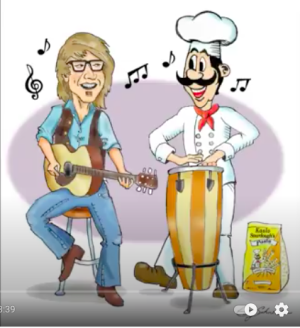 Sourdough Song 3: I am a Kaslo Sourdough
Did you know that sourdough has a second definition, not talking about the sourdough culture of bread making? A historical term for "sourdough" is also "an old-timer", or an experienced prospector in western North America. (Which is actually very fitting for the history of the West Kootenays.)
For this song, we take that idea of "being a sourdough" and apply it to being a Kaslo Sourdough! You get to see some of our Kootenay adventures, which include mountain-top sourdough pasta meals! Big thanks to Hackstock Production for the video!
We hope you like these songs and our ideas for how to use our packaging, eat our pastas to fuel your adventures, and why we live in the Kootenays!
If you want to find these videos, you can scroll of the bottom of our "Sourdough Songs Trilogy" webpage.
Back to news