You've heard us say this before: Kaslo is an amazing town. We love it here. It's an amazing place to raise a family. To adventure. Enjoy summer sunshine. Find work life balance and actually live it. Maintain a food production company. (Okay, that last one is maybe less straightforward than the other factors, at times (you've seen us write a bit about some of our transportation challenges)). With this post, we invite you to learn a bit more about this place we call home.
Kaslo from our View
Kaslo is a small town located in the West Kootenay region of British Columbia (BC), Canada. Our town is surrounded by the majestic Selkirk and Purcell mountain ranges and sits on the edge of beautiful Kootenay Lake, which is one of the largest lakes in BC at 104 kilometers in length.
Kaslo's population averages around 1100 people. It gets pretty quiet in the winter with the arrival of snow. That's when seasonal residents leave town for a few months, and it truly is a town where you can feel you know just about everyone. In the summer months, vacationers arrive to enjoy the town and seasonal residents return with the sunshine.
The busiest time of the year in Kaslo is the August long weekend (the first weekend of the month) when the Kaslo Jazz Festival takes place. This world-class music festival has been hosting big names since 1992. Some have included bands and artists like Ani DiFranco, Current Swell, Matt Schofield, Jesse Cook, Colin James, and the Jim Byrnes Blues Band! The festival takes place at the Kaslo Bay Park where musicians perform on a floating stage!
After the busyness of the summer fades away and the weather starts to get crisp, Kaslo goes back to being the serene and laid-back village that locals are accustomed to. Whether you're an outdoor enthusiast who enjoys the mountain biking and hiking trails or someone who just appreciates the slower and quieter pace of small-town living, Kaslo really is a special place.
A Bit of our Town's History
Kaslo's history began as a seasonal camping location for the Ktunaxa and Sinixt First Nations people, who included Kaslo as a place to fish and make tools. Local First Nations gave the early settlers tips about where to find what became lucrative mining sites. Two mining claims were staked in 1891 for silver, zinc and lead, which initiated a significant silver boom that resulted in Kaslo's rapid growth.
Kaslo was first incorporated as a city in the summer of 1892, making it the oldest incorporated communities in all of the Kootenays. At its peak, Kaslo was a bustling city of 6000.
In 1894, our town suffered two separate disasters. In February, a fire destroyed part of the business district of Front Street. Shortly after, a  catastrophic flood in June re-routed the Kaslo River to its current location today. That flood also   washed away and damaged a substantial section of the town. The residents rebuilt most of the village by November 1895.
In 1898, the S.S. Moyie was built to join the fleet of sternwheelers that brought passengers and goods to Kaslo from eastern Canada to Kootenay Lake and Nelson. At the time, sternwheelers were the most efficient and effective way to move people and supplies. The highways we are used to driving today weren't built until decades later. The S.S. Moyie retired as one of the longest serving sternwheelers in Canada in the late 1950s. It still resides in Kaslo today, where locals and tourists can walk the ship on daily tours throughout the summer.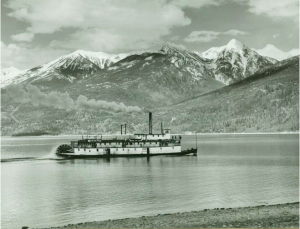 Kaslo has a rich history as one of the oldest towns in the West Kootenay region. That means there is always more to learn, for locals and visitors alike!
Back to news